The exhibitions in BETA . X change on a regular basis, usually every 3 to 4 weeks.
Come down to Church Gate and see our latest works on display.
REMEMBER: You too, can get your work exhibited in BETA . X
BETA-X CLOSING
After a year of fantastic exhibitions and projects, Beta-X is now set to close it's doors! Thank you to all that have visited and supported the various events / exhibitions and the artists who have exhibited work.
Ady Alexander.
@adyalex_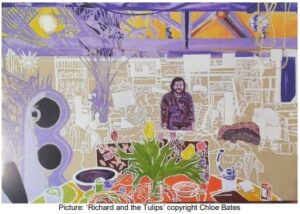 400 Portraits
Leicester artist
Chloe Bates
launches her '400 Portraits' exhibition at BETA.X Gallery
Leicester from January 3-7, 2023. Chloe was recently awarded overall winner of L.O.V.E Art
Prize winner for her stunning abstract work 'Richard and the Tulips' following a month-long
exhibition across multiple venues in Leicester.
The exhibition '400 Portraits' is a collection of self portraits created over 400 days during the
pandemic and taking a diverse array of approaches, documenting her lived experience
during that period. Chloe is a neurodivergent artist, carer and part time mature student at De
Montfort University, who is also a well-respected singer and poet in the area.
The works explore the process of daily artistic practice as a method of thriving during the
confines of the pandemic, exploring gestural, abstract and semi-realistic styles and materials
(including graphite, oil pastels, pens, paint, collage and charcoal) and are based on daily
photographic portraits.
'400 Portraits' is how one artist created her way through the pandemic and as such, is an
incredible body of work, that explores the emotional intensity of that specific moment in our
collective history as one artist documents her own way of coping. As a carer for a clinically
vulnerable husband and as a neurodivergent artist, these images tell a powerful story that
many of us can relate to as the isolation of lockdown impacted us all.
For more information, images and interview requests contact Chloe Bates
CocoSpiritSongTree@gmail.com – 07986 492669
https://www.instagram.com/chloesabin